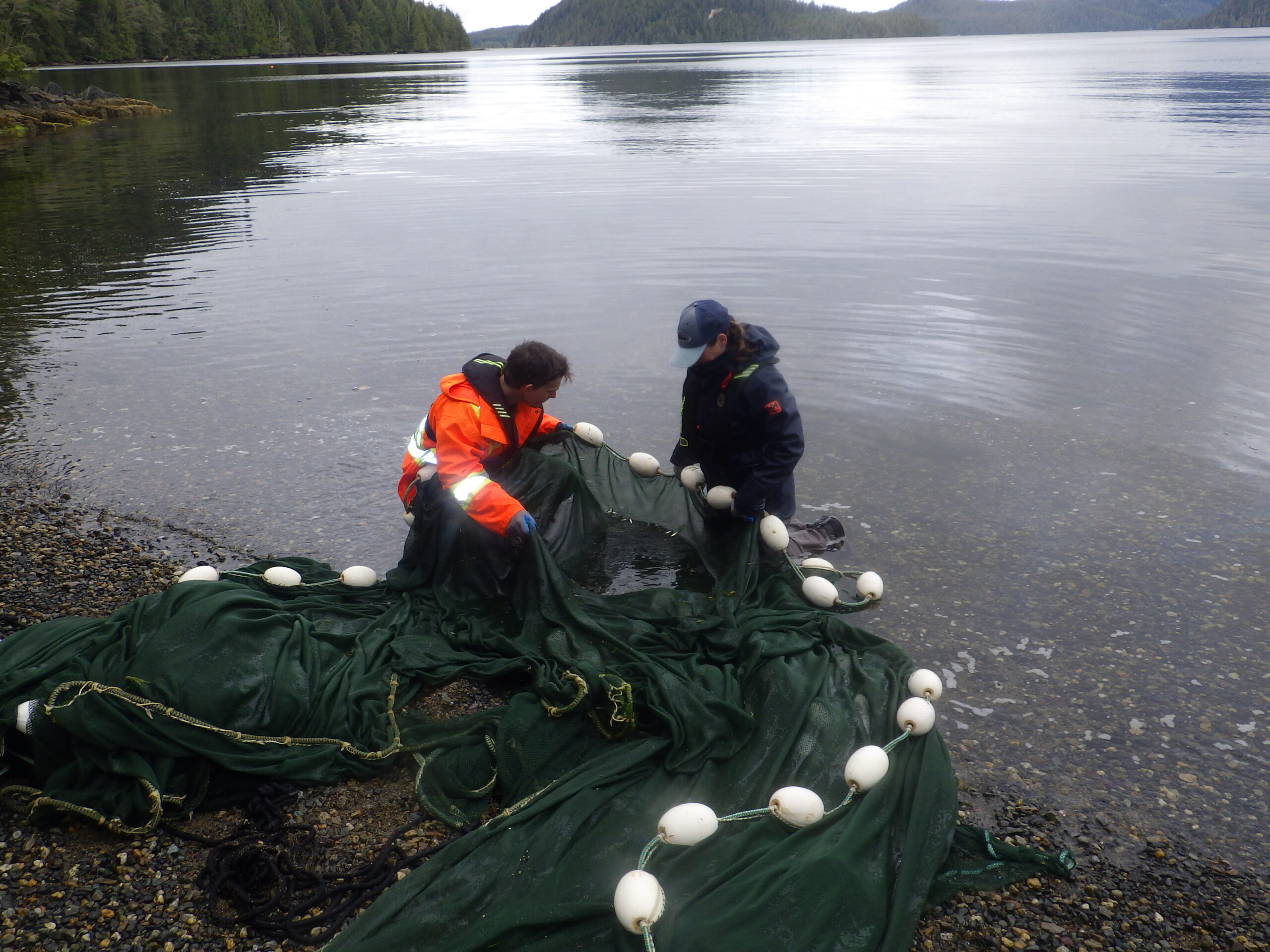 The Mainstream Biological team collecting samples
Creative Salmon was the first salmon farming company on Canada's West Coast to implement an environmental monitoring program, even before it was mandated by government.
Part of this program is working with independent third-party experts, like Mainstream Biological based in Campbell River, to proactively measure potential impacts on the area's wild salmon population and other sea life.
Sea lice are one of the key topics that Creative invests in monitoring beyond the regulatory requirement. Over the years, Creative has come to understand that their fish – Chinook salmon indigenous to the area – have a natural tolerance to sea lice. Operating in the low salinity conditions of Tofino Inlet also helps keep sea lice levels low.
"We've never had to treat our fish for sea lice," says Barb Cannon, Biology Manager at Creative Salmon, "but we do recognize it's a community concern and make monitoring for sea lice a priority."
In the spring of 2020, Mainstream Biological took samples from 13 locations in Tofino Inlet and Fortune Channel (including a number of areas specifically requested by members of the Tla‑o‑qui‑aht First Nation) to measure the prevalence of sea lice in wild out-migrating juvenile salmon.
Mainstream's analysis found that 95.8% of the 551 fish collected were free of sea lice. The few fish that were infected had an average of one louse per fish.
"The data demonstrates that sea lice levels are low in and around our operating areas," says Barb. "The study also allows us to share information with Tla-o-qui-aht and our regulators on local wild salmon stock populations and migration routes."
In addition to required regulatory reporting and proactive monitoring, Creative's commitment to the environment includes:
Only operating four of its potential six farm sites at any one time
Being the first salmon farming company in North American to achieve Canadian organic aquaculture certification
Low-density rearing environment (more than twice the room for fish to move and grow than a conventional farm environment)
Maintaining sites without the use of harsh chemicals or net antifoulants Creative is resampling the 13 locations in Tofino Inlet and Fortune Channel in 2021.
To learn more, visit creativesalmon.com/promise
DID YOU KNOW?
Sea lice are a naturally occurring parasitic organism that have lived in BC's coastal waters for thousands of years.1 They are tiny crustaceans belonging to a subclass of organisms known as copepods.
Copepods constitute the largest source of protein in the world's oceans in their early larval stages. Copepods have colonized almost every aquatic habitat on earth, and collectively comprise the largest animal biomass on earth.2
1Fisheries and Oceans Canada. Sea Lice Management of Salmon Farms
2Alaska Department of Fish and Game. What are Sea Lice?